Monday Art Note - For the NEW, EMERGING and WORKING ARTIST.
ArterNet Art - Online Art Gallery - For the NEW, EMERGING and WORKING ARTIST.
We are founded on the principles of collaborative partnerships
and connections.
A Call Out to All Art Tutors! We are now calling for submissions for collaborations and partnerships on our platform.
Send your submissions to: info@arternetart.com

ArterNet Art - Online Art Gallery. 29th Nov 2021

Hi to our Artist Friends, Here is Your Monday Art Note #26

ArterNet Art

Today we're looking at episode 2 of our L.E.A.P the many layers it takes to make your art sales online and how to apply them to your art business...
L = Learn
E= Engage
A = Assist
P = Perception


So let's LEAP into E for Engage

Over time I've dissected the sales process.
Formulated systems and procedures.
I've combined the two systems to form L.E.A.P.
LEAP - remember most artists hate selling,
but love relationships and building friendships.
And really, that's just being your non-salesy self -
being friendly, kind and authentic.
E = ENGAGE:
Give people your - stories - go in-depth and tell your fascinating story - the process of making your art is fascinating to people - the techniques you used - how you've experimented in the past and now feel you've reached a level that you are really happy with - what inspired the piece - go into detail where you were, what you saw in your minds eye at the time of making the piece - all this adds value to your buyer and soon to be your collector.


Provenance, it plays an important role in peoples perception of something and gives authenticity and value - while you'll be considered a trusted advisor and not a sales person - earning their trust and not just out to close the sale!

Be giving - be generous - explain - make a small video of you working - write lovely articles, using emotive words - go outside of yourself - maybe you can accrue ideas from established artists, not to copy, but to be inspired about your work - this is what creates the layers for people to know you.Offer something of value and do not ask for anything back.
Say something like, this maybe of interest or value to you - the idea being for people get to be more comfortable around you.
I remember, back to another era, when I was putting my toe in the water, thinking, just maybe I could be an artist. It was such a ridiculous idea that came out of nowhere and quite frankly scared the hell out of me!
I mean who was I to think I could be an artist? Does this sound familiar...the old imposter syndrome!
Anyway, I started to go to art galleries and I became familiar with a number of artists. One was a famous abstract artist, who I still admire today. The gallery owner was explaining how the artist painted. She gave me a pretty detailed description of the thoughts of the artist. I was encapsulated. Then she pointed to a couple of drips of white paint at the bottom of the painting and said 'these drips of paint here, they're there on purpose and were made in a mindful way'
'WOW', I remember thinking, isn't that amazing! I was hooked. I don't know why. But that is the power of a story. And if I'd had the money, I'd have bought the painting there and then! One day I will buy one of her paintings.

Go to where your buyers are, social media and be mindful, it doesn't happen overnight. Especially, since Instagram changed their algorithms!
Promote yourself to buyers and collectors - not to other artists!
Use hashtags like:
#artforyourhome
#interiordecorating
#interiors
#interiordesignuk
#interiordesign
#interiorart
#internationalartist
#instagram
#archdaily
#architecturaldigest
#architecture
#artist
#art
#abstractpainting
#artexhibition
#abstracts
#interiorstyling
#interiorideas
#houzz
There are plenty more, but only use around 30 on Instagram.
Feel free to add these to your hashtag portfolio:
Consistency: It's no good posting every couple of months. You need to have a plan to post on a more regular basis.

This is where our Daily Method of Operation comes into it's own! (this is a free e-book on joining ANA)
Professional artists should look to have a level of credibility in the art world and a professional sales site, ANA for example will present your art beautifully - that is what consistency is all about - online creditability is what you're after.

This consistency was one of the motivations for our team to create ArterNet Art - ANA - in the first place. We are aiming for a kind of standard at the highest level - as if you are walking into MOMA - this is the standard - this is the level - all the time - systems are the key.




One of the businesses we had in the past was a food bar and one of the biggest issues was how to be the same every time, sort of like McDonalds, but at a grass roots level.
So, I set up our systems:
This is the way we do things here! For instance: When one of the staff members were away sick, how does the next person making the sandwiches make the same sandwich - exactly the same as the person who always makes them. We weighed everything; the amount of chicken in a chicken sandwich, the amount of egg in and egg sandwich etc. Then I wrote down each step that was required to make that gorgeous egg sandwich.
That's the only way we could maintain our standards, so the customer knew they were going to get the same everyday.
That is why consistency is so important!
That's the level of professionalism we are aiming for. The tools we provide, though simple and easy for you to incorporate into your day, will automatically put your artwork into that type of presentation.

You don't have to build a website of your own. You can use our platform as your one stop shop, which includes your own back office for your art portfolio, your art sales invoices, shipping invoices, certificates of authenticity for your artworks, payments etc.

You can use what we have designed with the artist in mind, which will put you forward as being a real pro.

This in a nutshell will allow you to ENGAGE with your client with peace of mind, knowing you have the back-up team as support.
<><><>


And lastly :



As I mentioned last week - Re our ArterNet Blog: We artists, love these rare insights into other artists lives. Reading their stories helps us with our own daily challenges - to know others have had their trials and have succeeded, is very uplifting.

The culture of our company here at ArterNet Art - ANA, is to put a human face to all our members and guest artists. Part of our approach is to give our artist members the opportunity to meet recognised artists - to learn more about how they became the well-known artist we see today.
This week it's our pleasure to introduce Featured Guest artist Linda Lieffers on:
'World Famous on ArterNet Art'
https://arternetart.blogspot.com/2021/11/world-famous-on-arternet-art-linda.html

Linda comes from a background of Interior Design & Art. She began painting to fulfil her constant need and desire to be creative and to live a more challenged life.
Linda left the cold prairie winters of Canada behind, and say's she's been most fortunate to reside in Mexico for the last 18 years.
<><><>
Next weeks Featured Guest Artist is Michelle Marra
<><><>

Do you have an exhibition or anything on the horizon that you want to shout about? Then email me and I will add it here to our Monday Art Note!
<><><><>
Warmest Regards
Averil Noeline Stuart
Founder and CEO
ArterNet Art

https://arternetart.com/

Email: info@arternetart.com
And remember: you tell 2 people and they tell 2 people - and we'll be there before you know it.
'Dances at Sunset' 30" x 48" - with little Stewie giving his approval.
<><><>
is freedom,
Loving what you do is
happiness!
Linda Lieffers
<><><><>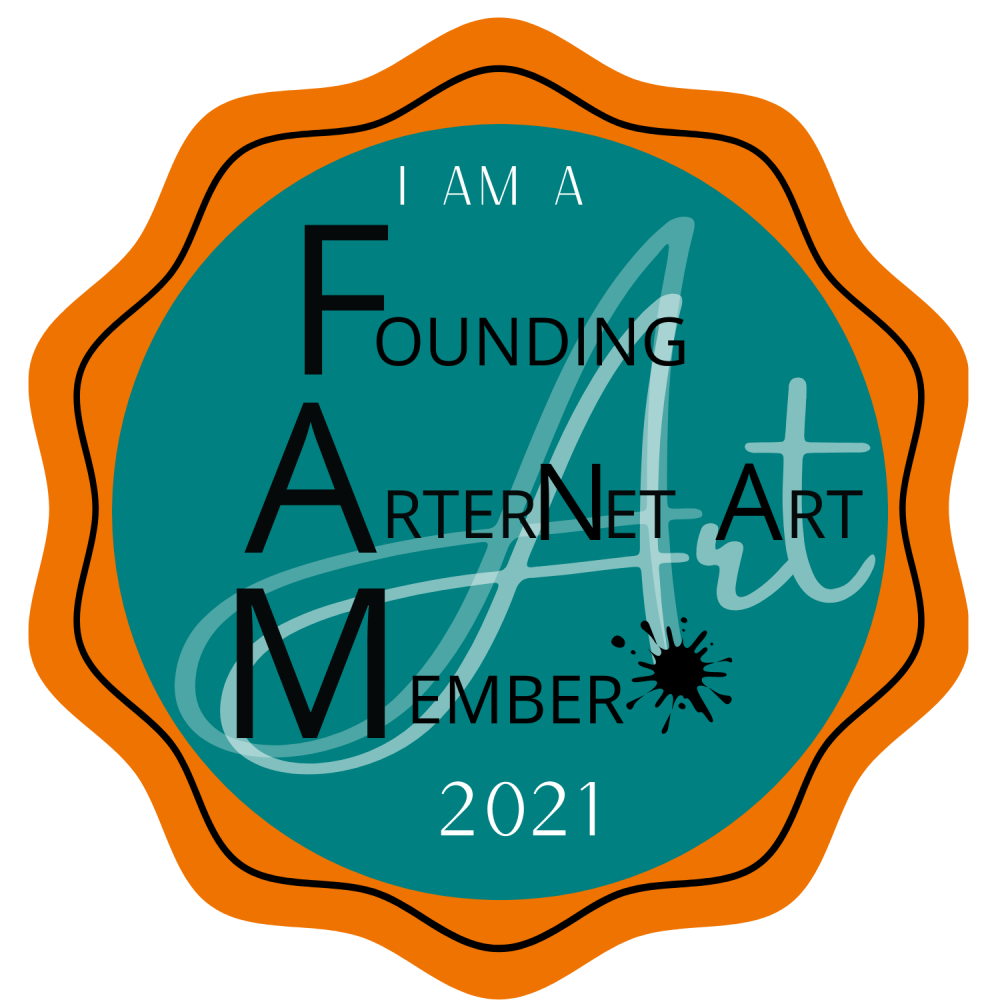 Find out how to claim your FAM Badge Here:
Sent to: _t.e.s.t_@example.com
ArterNet Art - A Branch of Global Online Art Ltd, High St , Leeston 7656, New Zealand